Disclaimer: This story is designed for ADULTS only and may include texts, pictures and materials that some viewers may find offensive. If you are under the age of 18, if such material offends you or if it is illegal to view such material in your community please exit the site. The following terms and conditions apply to this site. Use of the site will constitute your agreement to the following terms and conditions. All characters appearing on this website are fictitious. Any resemblance to real persons, living or dead, is purely coincidental.
Zen and Eli had dated for almost 6 months before they made the decision to move in together. They were one of those sweet couples that you see around living in the neighborhood with their many kids. They had not decided to have kids yet as they thought they were still not ready. Eli's love of cats was not unknown to Zen therefore he brought home a Persian kitten for her birthday to surprise her last month. It was a beautiful furry male kitten that had brought more colors in their somewhat stagnant life. They named him Taco after Zen's childhood pet parrot.
Zen was 22, almost 6'4", white man and was a fireman. He was quite handsome and had beautiful black eyes. He had dark curls, a constant 5 o'clock shadow and a classic British accent. He moved with slow confidence. He was quite muscular and fit as his job required him to stay physically pristine. Despite of being quite good looking, he never had been comfortable with women. Two bitter break ups had crushed him.
Eli on the other hand was an attractive and intelligent girl, having beautiful red hair and freckled skin, large perky breasts, an ample ass, firm legs, and a pretty face with light brown eyes and a friendly smile. She worked as a librarian. She had gotten into an accident a year ago which left many scars on her body and face. Her confidence was shattered and she was unable to get into a great relationship as people judged her body.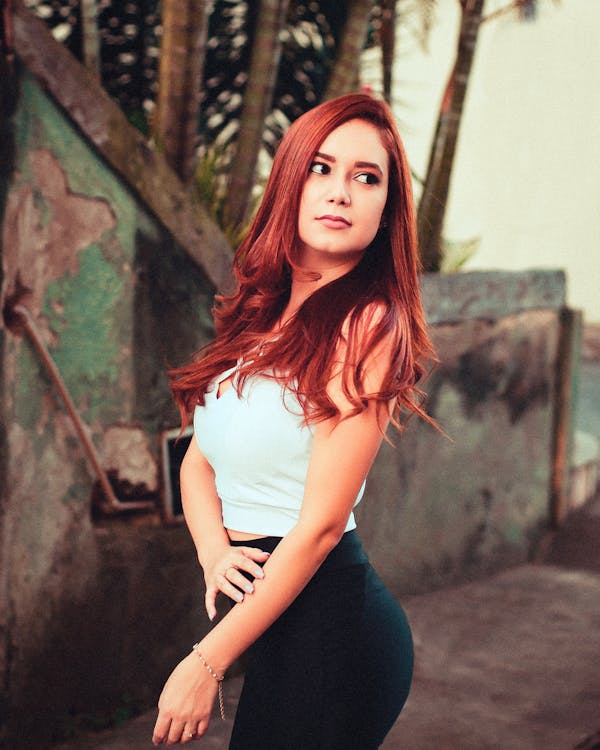 Fate works in strange ways. A fire broke out in the library where Eli worked and she was saved by Zen. She liked his bravery while he on the other hand was smitten by her eyes and her composure. One date lead to another and before they knew it, they had developed a strong bond. Eli made him feel warm and he made her feel secure about her body. They complemented each other as if it was written in the heavens.
On a lazy Sunday evening, they were sitting in the lounge with their cat, Taco.
"Honey I am having these strange cramps in my tummy and hips." said Eli.
"I think it's because of the periods. You don't listen to me. I told you to drink lots of water." Zen said in an agitated tone.
"Speaking of water, can I have some???" Zen enquired.
"Sure". Eli said as she made her way to pour him some water. Suddenly Taco jumped up on her and her foot twisted as she fell down directly on his lap whilst splashing the bottle on him and herself.
Silence took over the room as they looked at Taco in a funny way. They laughed hard at Taco's innocence as they laid eyes on each other. He made the first move, staring directly into her and give her a cheeky smile. Her face turned red as she blushed and bit her lower lip. Romance was in the air.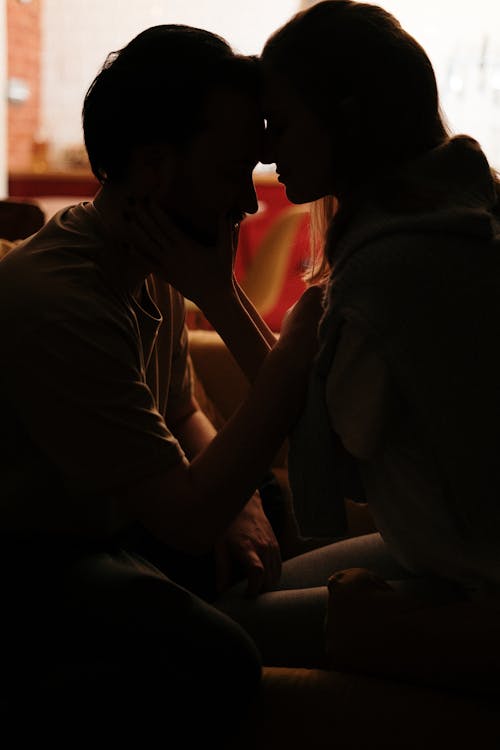 Her heart pounded with all its might as he gently placed his lips on her full lips. He kissed her passionately. He sucked on her upper lip as their tongues mingled in ecstasy. He started rubbing his palm up and down as her body ached and tingled with each touch. His fingers moved to thigh and she threw her head back and moaned.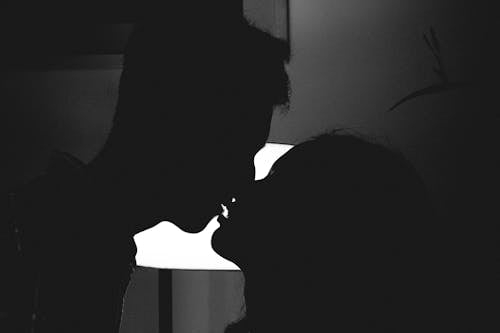 His eyes remained on hers as she looked straight down at him. He moved both hands on her back and grasped her ass cheeks tightly. She gasped with each touch..

They started undressing each other hastily as he opened her blouse and pulled down her skirt. She undid his jeans and shirt. She wore a white bra and panties that perfectly hugged her curvy figure and complimented well with the skin. He licked her body with anticipation.

She felt vulnerable, desired and sexy under his spell. He undid her bra and panties revealing her chocolaty tits with dark black nipples and a dark brown hairy vagina. He sniffed her arm pits and kissed her neck.

His big hands moved up her torso contrasting against her dark skin. She closed her eyes as his fingers made their way up. He pressed his palms against each nipple. She leaned into him, feeling his thick chest hair against. His finger found the damp folds of her vagina. She stopped breathing he explored her labia with tiny strokes. She gasped with pleasure and pain.


"Zen ummm Zen, I am on my period remember" She moaned in pleasure.
"UMMMMM UMMM AMMM Its alright honey, we are just playing." Zen moaned back.
He took a nipple into his mouth, and she squealed. She was so sensitive, her instinct was to try to spin away from his lips. He held her nipple between his lips and she could feel the heat of his breath. Then he touched his tongue to the tip of erect nipple, and pulled it away. She screamed with a mix of pleasure and frustration as his tongue lathered her nipple. He did the same to her other nipple, and resumed rubbing her labia with one finger.

"Zen O Zen," She groaned. "Don't fucking stop."

It was his mouth on her tits, fingers inside her and his rough hand pressing against her clit that sent her into a 2-minute orgasm. She could feel every knuckle as she clamped down on his fingers. She fell backwards against him, and her legs shook uncontrollably. Her foot cramped up from the intense muscle contractions. As the orgasm wound down, her body grew impossibly sensitive, pulling away from even the slightest touch. She still felt a raging pain in her soaked vagina.

She rubbed his erection through his briefs. It was a huge penis at least 8 inches long and almost was as thick as a can.

She stroked up and down firmly while trying to make eye contact with her lover. His head was thrown back, and she slowed pace until he looked at her
"My turn honey" She said as she winked at him.
She stared into his eyes as she moved her lips closer to the glistening head, kissing the top. She engulfed the top of his cock and swirled her tongue around the tip. He could feel every muscle in his lower body tighten. Her other hand massaged his balls, which had become tight and smooth.

She slid lower down his cock and wasn't able to fit him all into her mouth, but had more than two-thirds of his erect cock swallowed, using her hand to stimulate the rest. She started slipping him as deep till erection had grown full in her mouth. He took his cock out
"Oh honey UMMM AMMM UMM I love you so much. God, I AM SO WET. GIVE IT TO ME..END THIS PAIN….THIS PAIN, IT WILL END WITH YOU INSIDE ME.. I WANT YOU"
He broke from her hold and reached into a drawer, pulling out a condom. He twisted her so she was lying across the bed sideways, and stood between her legs. Her hairy pussy was still throbbing and she was staring at his white erect cock prepared to stretch the walls of her young pained cunt beyond their limits.

He slipped the condom over it and covered the outside with some saliva. He put a glob of saliva on his finger, and inserted it inside her, lathering up the opening and the inner walls. He stared into her eyes and said, "Do you really want me to end your pain my love?"

"Oh Zen, Don't stop. Soak me my love. I want you UMMMM " she said in an intoxicating tone.

He reached between her legs to grasp her and guide him to the opening. She held her breath as she felt the pressure of his cock fill her opening, then a surge of pain and pleasure as the ridge of his head popped through and pushed upward. Only about a fifth of his cock was in her, but she felt almost full and shrieked with pain. She needed her vagina to adjust to these limits as it had been swollen due to her period pain. He paused his plunge and played with her clit as she relaxed.
He knew that she was getting desperate. Her clit was swollen and red and her heart was racing. He spun her around, grabbed her waist. Pinning her wrists to the sofa, he thrust his huge member deep into her. She screamed in pain as period blood profuse from her tight tiny vagina. It was as if a train collided into her pussy. She had never felt herself so full.

She relaxed and he pushed deeper. Now the middle of his shaft was inside of her, foreskin still sheathing the bottom and adding to his width. She felt stretched on each wall of her vagina, and  couldn't imagine more. Then he pulled almost all the way out.

He gave her more. With one hard thrust he pierced through every barrier. He was deeper than any cock had ever been in her and the sensations were too much. Tears ran down her face, as she was torn between pleasure, emotion and pain.
A little blood was visible on his cock but he didn't care. He began to pull in and out, sending waves of discomfort and ecstasy through her. She had not had an orgasm in her periods before, but she was getting close. Just as it was welling up, Zen increased speed and his balls were slapping her clit every second. She stopped breathing, and cried out. Zen moaned something just as his cock pushed deep into her pussy.

She couldn't believe she was somehow more full. With each thrust, every muscle in her lower body clamped down hard on cock. She grunted with each pounding as drops of bold and vaginal fluid spilled out. Her arms were shaking and she dropped down. Each plunge was harder than the last. She was silent, unable to use any energy for anything other than the earthquake building inside of her.

It was as if all the blood in her body was rushing to her crotch, and the rest of her was shutting down. One more deep thrust pushed her over the edge. She exploded, a mixture of cum, blood and vaginal fluids but he followed through with another deep push.

When his balls hit her clit, she thrust her hand against her clit and screamed. A gush of orgasm having blood fired from her core, over her thighs and onto Zen. The explosion was just the beginning, as rapid-fire spasms rippled through her. As she was convulsing, Zen's thrusts ended. He was deep inside her, sloshing through her. He groaned as his cum filled the condom's reservoir. He flipped her over without pulling out and pushed one more time, his whole body weight on top of her as he crumpled. Tiny contractions continued. She gathered energy to kiss him, but couldn't talk. He kept silent, allowing her to process the immense pain and pleasure that she had just endured. A reddish oozy fluid oozed out of her reddish vagina as she felt that the pain in her body had gone.

She rested her head on his chest tired of the episode. He played with her hair as they both had realized that they were made for each other and would probably end up marrying one day. He smiled at her, kissed her on her forehead as they chatted lovingly.